All New 10th Gen Honda Accord Comes to BIMS 2019
- Views 100
- 05 Apr 2019
Honda has shown the all new 10th generation Accord at Bangkok International Motor Show
2019
.
BIMS
40th
edition was started on 26 March 2019 and it will be continue till
4
April
2019
. The auto giants from across the world availed the opportunity to showcase their new coming cars o r concept models at this show in Bangkok this year. Honda has the long list of
12
cars, which are showcased at the show and all now Honda Accord has been the center of attraction. All New 10th Gen Honda Accord Comes to BIMS 2019.
This car was introduced in Thai auto market over one week ago and COO of Honda automobiles in Thailand was present at this grant event. He said that Honda Accord is one of most important model of the company and the company has brought new technologies in automobile industry. The premium sedan will bring excitement to Honda booth and the show in Thailand.
Honda has introduced two variants of Accord in Thai auto market like turbo and hybrid. Turbo variant is powered with
1.5L
Di
VTEC
turbo engine to generate maximum output power of
190
hp, which is mated with
CVT
transmission to offer improved level of performance. The combination of Accord is added with better mileage and performance than its predecessor, 9th generation of
2.4L
engine car. There are many safety features and the company has installed advanced systems to make it safer on the road. This car is added with Honda sending safety and it is combination of many safety features and some of them are mentioned hereunder:
Collision Mitigation Braking System CMBS
The collision avoidance system is installed in this car and it is designed for the vehicles to reduce o r prevent severity of collision on the road.
Adaptive Cruise Control with Low Speed Follow
Honda Accord
has adaptive cruise control system and the driver turn on ACC mode and it increases the speed of the car to desired speed and press the set button to cruise with the trip. The stopping o r slowing down of the vehicle is to avoid obstacle and it remains responsibility of driver.
Lane Keeping Assist System LKAS
This car is installed with Lane Keeping Assist System, which can ensure that the car remains in lane and it does not create hurdle for other vehicles on the road with the provision of steering assistance.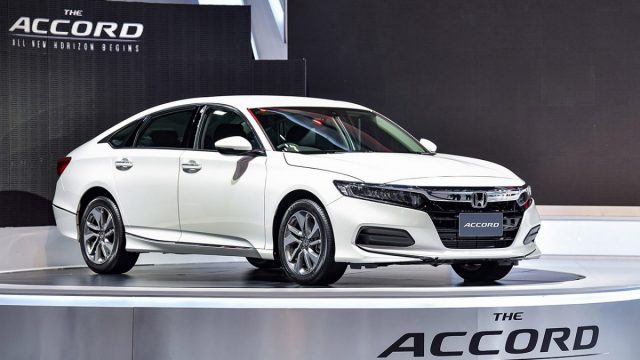 Cross Traffic Monitor CTM
Honda has added the cross traffic monitor system in all new Accord vehicles. This safety feature is integrated with back view camera to let the driver know if any vehicle is approaching near with the help of sensors, which are installed at both corners of the car.
Multi View Camera System MVCS
This multi view camera system enables the driver to switch between different angles of camera so that they can extend the parking experience of driver and they can avoid any blind spot.
Honda Smart Parking Assist System
Honda smart parking assist system is the most exciting innovation as the driver mark the alignment of the car for parking and this system will do remaining work. It makes parallel parking maneuvers easy especially for those, who do not like to park the car in tight spaces.
Road Departure Mitigation System RDMS
The main purpose to install road departure mitigation system in the car is to auto correct course with the help of steering o r braking adjustment if there is change in the lane.
Lane Departure Warning System LDWS
Honda has installed the windshield camera in Accord to identify the lane dividers of markers of cat eye. If there is any lane change, it starts the audible alert to warn the driver.
Auto High Beam Support System AHB
Auto high beam support system coverts the low beams of headlights to high mode on clear road and it shifts back low beam, when it detects that a car is coming from opposite direction.