Babar Azam Fined for Traffic Violations in Lahore

Jawad

26 Sep 2023
165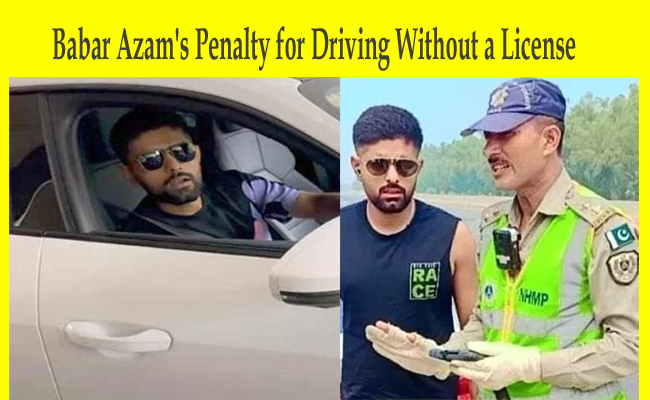 Babar Azam Fined for Traffic Violations in Lahore
Pakistan cricket team captain Babar Azam recently found himself in a legal predicament when he was fined by traffic police in Lahore. On September 17th, in Lahore's Gulberg area, he was slapped with a Rs. 2,000 fine.
The traffic police initially pulled him over for a lane violation, a common issue for many commuters. However, what started as a routine check turned into a more serious matter when it was revealed that Babar Azam did not possess a valid driver's license. This double violation, involving the lane infraction and the absence of a driver's license, placed the renowned cricketer in a challenging situation.
While lane violations may seem minor, driving without a valid license is a significant breach of traffic regulations. Law enforcement takes this offense seriously due to the potential risks associated with unlicensed drivers.
As a public figure and the captain of Pakistan's national cricket team, Babar Azam's actions both on and off the field are closely observed. His unintentional traffic offenses serve as a reminder that regardless of one's status or profession, everyone must adhere to traffic rules and regulations. In this case, the traffic police applied the law impartially, imposing a fine of Rs. 2000 as a consequence of these violations.
Currently, as the skipper of the national team, Babar Azam is preparing to lead Pakistan in the upcoming cricket World Cup in India. There were uncertainties about Pakistan's participation in the tournament due to delays in visa issuance by the Indian government. Fortunately, the issue has been resolved, with India finally granting visas to the Pakistan cricket team. The International Cricket Council (ICC) confirmed this development, alleviating concerns about visa processing delays.
What are your thoughts on this matter? Feel free to share your opinions in the comments below!
Related Auto News Updates
Add a Comment "Babar Azam Fined for Traffic Violations in Lahore"