Mitsubishi Pajero 1992 Cars For Sale In Gujranwala
Pajero Cars in Gujranwala
:
Mitsubishi Pajero 1992 Cars for Sale in Gujranwala
. Search good condition, cheap, discounted, low price second hand new model
Mitsubishi Pajero 1992 used cars for sale in year 2021 in Gujranwala
Pakistan. Largest stock of genuine latest local and new Japanese model of Mitsubishi Pajero 1992
cars for sale in Gujranwala Pakistan
at Gari from March 2021 & April 2021 ads listings. Pajero Cars in Gujranwala, Punjab, Sindh, KPK, Balochistan, Kashmir AJK, Gilgit are available at bank lease, loan installment, with or without down payment, interest or advance to buy Mitsubishi Pajero 1992 online today near me. New
Mitsubishi Pajero 2021
specs can be seen online.
Sort By: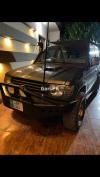 1992
Gujranwala
100000 km
Diesel
3200 cc
Automatic
Sep 26, 2020
---

1992
Gujranwala
200000 km
Petrol
7 cc
Automatic
Apr 21, 2019
---

1992
Gujranwala
147500 km
Diesel
2400 cc
Manual
Feb 18, 2019
---

1992
Gujranwala
200000 km
Petrol
3000 cc
Automatic
Jan 3, 2019
---
Used Cars for Sale in Gujranwala by Area
Filter