New Eagle Bikes in Pakistan
Eagle Group, a dynamic subsidiary of Diamond Group of Industries, has made significant strides in the automotive industry by venturing beyond its renowned expertise in mattress production. With the establishment of Eagle Engineering Group, the Diamond Group made a bold entry into the automotive sector, expanding its horizons and diversifying its product offerings. Specializing in the production of cycles, motorcycles, rickshaws, and auto parts, Eagle Engineering Group has become a key player in the industry.
Eagle Motorcycles: Exemplifying Innovation and Performance
Within the realm of Eagle Engineering Group, Eagle Motorcycles stands out as a symbol of innovation and performance. While currently focusing on the production of 70cc motorcycles, Eagle Motorcycles continues to push boundaries and redefine the standards of excellence in the industry.
A 70cc Lineup to Cater to Every Rider
Eagle Motorcycles proudly offers a diverse selection of 70cc motorcycles designed to meet the needs and preferences of riders across the spectrum. The lineup includes:


Eagle DG70 Supreme: The epitome of luxury and comfort, combining style and performance.


Eagle Regular DG-70: A reliable and efficient choice for everyday commuting needs.


Eagle DG70 Firebird: Embodying a sporty and adventurous spirit, perfect for those seeking an adrenaline rush.


Eagle ES70 Firbolt: A nimble and agile motorcycle, ideal for maneuvering through city traffic with ease.


These 70cc motorcycles from Eagle Motorcycles have garnered acclaim for their outstanding reliability, fuel efficiency, and affordability, making them accessible to a wide range of riders.
Continuing the Legacy of Quality and Innovation
With a strong foundation in the Diamond Group of Industries, Eagle Group is committed to upholding the values of quality craftsmanship, technological innovation, and customer satisfaction. By leveraging their expertise and resources, Eagle Motorcycles aims to deliver exceptional products that not only meet the expectations of their customers but also exceed them.
As Eagle Group continues to expand its presence in the automotive industry, it remains dedicated to exploring new frontiers, pushing boundaries, and setting new benchmarks for excellence. Through their commitment to innovation and customer-centric approaches, Eagle Group is poised to shape the future of the automotive industry in Pakistan.
Eagle Motorcycle Latest Models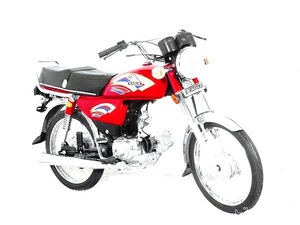 PKR 58,000
PKR 57,000
PKR 60,000
Recent Bike Reviews
Best for money
Iam using this bike.... And I love its ride.. Have beautiful design and looks like heavy bike.. And ita a budget bike ...
New
This bike is new and I can bought this range and I like him ...
Used Eagle Bikes for Sale in Pakistan