IMC Unveils First Locally-Made Corolla Cross to PM

02 Jun 2023
228
Toyota
Corolla Cross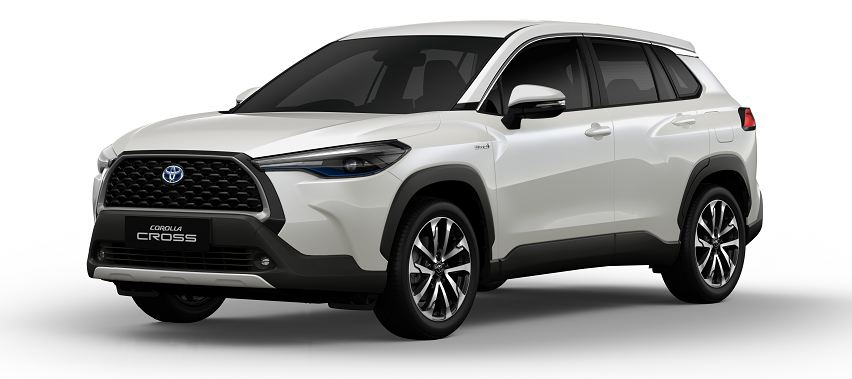 IMC Unveils First Locally-Made Corolla Cross to PM
A delegation from
Indus Motor
Company (IMC) recently presented Prime Minister Shehbaz Sharif with the first locally-made
Toyota Corolla Cross Hybrid
Electric Vehicle (HEV). The meeting, attended by IMC's Vice Chairman Shinji Yanagi, Chief Executive Ali Asghar Jamali, and
Toyota
Asia President Yoshiki Konishi, highlighted the significance of this milestone for Pakistan's automotive industry. The customers can note the breaking news that
IMC Unveils First Locally-Made Corolla Cross to PM
.
Prime Minister's Support for Localization and Export:
During the meeting, Prime Minister Shehbaz Sharif commended IMC's initiative in producing Pakistan's first locally-manufactured
hybrid
HEV SUV. He emphasized the importance of further localization of
vehicles
within the country, while also encouraging their export. Sharif assured the continuation of HEV incentives as outlined in the Auto Policy 2021-2026. Federal Finance Minister Ishaq Dar also acknowledged the economic and environmental benefits of the new product.
Toyota's Contribution to Pakistan:
Yoshiki Konishi, Chief Designer of the
Corolla Cross
and President of Toyota Asia, expressed gratitude to the government and people of Pakistan for their support over the past three decades. He referred to the Corolla as a product that holds a special place in his heart, emphasizing its growing popularity as Pakistan's "people's car."
Anticipated Launch amidst Challenges:
The locally-made
Corolla Cross
represents a significant achievement for
Toyota Pakistan
, as it has been one of the most eagerly awaited cars in the domestic industry. According to sources, the
crossover
SUV is expected to be launched in June-July 2023. However, the current economic and political situation poses significant challenges for IMC and other
car
manufacturers. The market stagnation, along with issues such as non-issuance of LCs by the State Bank of Pakistan, problems in importing raw materials, and fluctuating exchange rates, hinder progress.
Breath of Fresh Air for the Industry:
Despite the prevailing challenges faced by the automotive industry, the introduction of the Toyota Corolla Cross HEV is seen as a much-needed boost. The industry eagerly awaits this breath of fresh air. Here are the notable specifications and features of the upcoming CBU Toyota Corolla Cross.
Specifications and Features:
Engine:

•
Produces 168hp at 3600 RPM and 305Nm torque at 3600 RPM
•
Equipped with Direct Shift CVT transmission
Safety Features:
•
Top-of-the-line variant: 7 airbags (driver, passenger, side, drive knee, and curtains)
•
Low-end variant: Dual airbags
•
Both variants feature ABS, Hill Starting Assist System, parking sensors, and passenger seat sensors
Exterior:
•
Top-of-the-line variant: LED headlamps and DRLs
•
Low-end variant: Halogen headlamps
•
Body-colored door handles, electric + auto-fold side view mirrors, and a shark fin antenna
•
Top-of-the-line variant: Power + kick sensor trunk door; other variants: Electric lock boot
•
17-inch alloy rims in all variants
•
Top-of-the-line variant: Moonroof, cruise control, shark fin antenna, and rear wiper with auto sensors
•
Low-end variant: No cruise control
Interior:
•
Top-of-the-line variant: 8-inch touchscreen infotainment, leather seats, Auto AC dual mode, and rear AC vents
•
Low-end variant: Fabric seats, Basic audio system with CD/BT, Single-Mode Auto AC, and no rear AC vents
•
All variants feature Sports + Eco driving modes
•
Push Start feature and smart entry across all variants
The locally-manufactured Toyota Corolla Cross HEV marks a significant milestone for the Pakistani automotive industry. Prime Minister Shehbaz Sharif's support for further localization and export of vehicles reflects the government's commitment to promoting sustainable and technologically advanced transportation solutions. As the industry eagerly anticipates the official launch, the Corolla Cross is poised to make a positive impact on Pakistan's automotive landscape.

Related Auto News Updates
You Might Also be Interested in
Add a Comment "IMC Unveils First Locally-Made Corolla Cross to PM"
New 2023 Car Comparisons