Suzuki Mola 125 2021 Price in Pakistan & Specs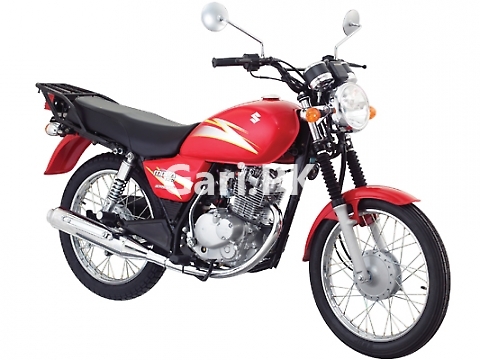 New Suzuki Mola 125 Price in Pakistan
Body Type: Standard
Suzuki Mola 125 2021
is now provided in Pakistan and we will discuss the price in Pakistan, shape, pic, features, specs of the bike. Suzuki has developed the machine about a decade ago and it attracted the devoted all over the world.
Suzuki Mola 125
was introduced in Pakistan and this is the new and stylish bike 125 cc. this motorbike has 4 stroke engine cylinder, cooled by air. This bike has 125 powerful 4 stroke engine and it has the single cylinder, which is cooled by air. This
Suzuki motor bike
has powerful 4 stroke engine to produce maximum peak power. The powerful engine of the bike,
Suzuki Mola 125
can run at the highest speed.
Suzuki Mola 125
is manufactured with steel frame with the suspension having the telescopic fork. This bike is safer than other bikes having 125cc as it is prepared with powerful brakes. The bike has the braking system of drum brake at the front end and the rear brake is more reliable. This bike is easier to use and it is durable, when you compare it with other bikes.
Suzuki
Mola 125 is prepared in stylish look and it is beautiful bike, when you consider its design and mini headlight. The fuel tank of the bike is prepared in beautiful shape and it has the capacity of
13.5 liters
. This bike has the dry weight of
115 kg
. You can know the transmission of this bike, which is 5 speed constant mesh down shift. It is kick starter and the cuts are in front side and leg side is excellent and it makes it different from other bikes.
Suzuki Mola 125 2021 Specifications
New Suzuki Mola 125 2021 Bike Comparisons
Used Suzuki Bikes for Sale in Pakistan