2020 Toyota Yaris Cross Launched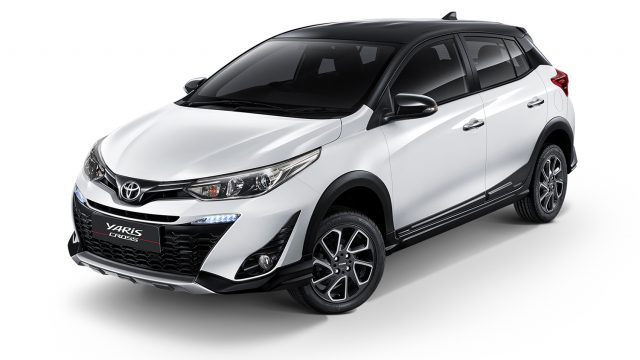 It's a good idea to give the
Yaris Cross
hatchback fans a superb SUV-like car. The trend globally is that people are preferring crossovers and SUVs over sedans and hatchbacks. Toyota has taken advantage of this opportunity to introduce the 2020 Yaris Cross in Thailand. The
Car
was launched in Europe in 2018. Vehicle enthusiasts are calling the new Toyota Yaris Cross the 2020 as the one that has grown slightly and has grown slightly taller.
All car manufacturers around the world are turning their hatchbacks into cross-overs due to the increasing popularity of cross-overs. Three variants are being offered in Thailand. These are Entry, Mid and High.
Exterior and interior
The
Yaris Cross
has iced plates on the front and rear and heavy fenders on either side. These fenders give the Yaris Cross a very sturdy and sturdy look and feel. The
Toyota Yaris Cross is also offering two-color exterior
, but it's an optional feature. Ground clearance is 190mm, which is 30mm higher than the typical Yaris hatchback. This is made possible by new springs and dampers. It also comes with a shiny black 15 inch alloy rim. The black roof gives the Yaris Cross a sporty and cool look. In addition, it has chrome door handles and a smart entry system.
2020 Toyota Yaris Cross Launched Video Review
Front and back cameras are included as standard that also facilitate recording. You can buy Yaris Cross in 7 colors. Side mirrors are also black. This projector comes with head lamps that have an automatic opening o r closing system. Daytime running lights DRLs and LED fog lamps have also been included in the bumper.
The interior of the Yaris Cross is the same as the Yaris hatchback. The interiors include a 7-inch touch screen infotainment screen and 7 airbags. It has steering controls and a one-color interiors scheme. The electric power steering is leather-mounted, giving the car a premium feel. It has sports style black leather seats.
It is also equipped with a
4.2-inch TFT driving information display
. The rear seats can be folded to 60:40 and are adjustable. The luggage compartment comes with the lid. It Comes with driver-side electronic window clamping protection mechanism. The car has plenty of storage space and the glue box on the dashboard is large.
Engine and performance
The Yaris Cross is equipped with a 1.2-liter 3NR-FXE engine capable of delivering 109 Nm of torque and 92hp output. The engine comes with Continuously Variable Transmission, ie CVT. The Yaris Cross is a
front-wheel-drive
vehicle that cannot travel on rigid off-road routes, in accordance with
engine echo-II rules
and has a wearable valve system that is
electrically controlled
.