Changan Motors Introduces Two New Pickups
- Views 100
- 07 Sep 2018
The government has already introduced the new auto policy 2016-21 and the new automakers are introducing their vehicles in the market like Kia, Dewan-Daehan. Now Master Motors has made the collaboration with the Chinese partner, Changan Motors to set to launch two new Changan pickups including M8 and M9 on 15 September 2018.
Master Motors has been awarded with Greenfield investment by government. The first one is M8, which is added 999 cc inline 4 cylinders mated to 5 speed manual transmission to make 68 hp @ 6000 rpm and 92 Nm of torque @ 4800 rpm. The body dimensions of the
vehicle
are provided as under: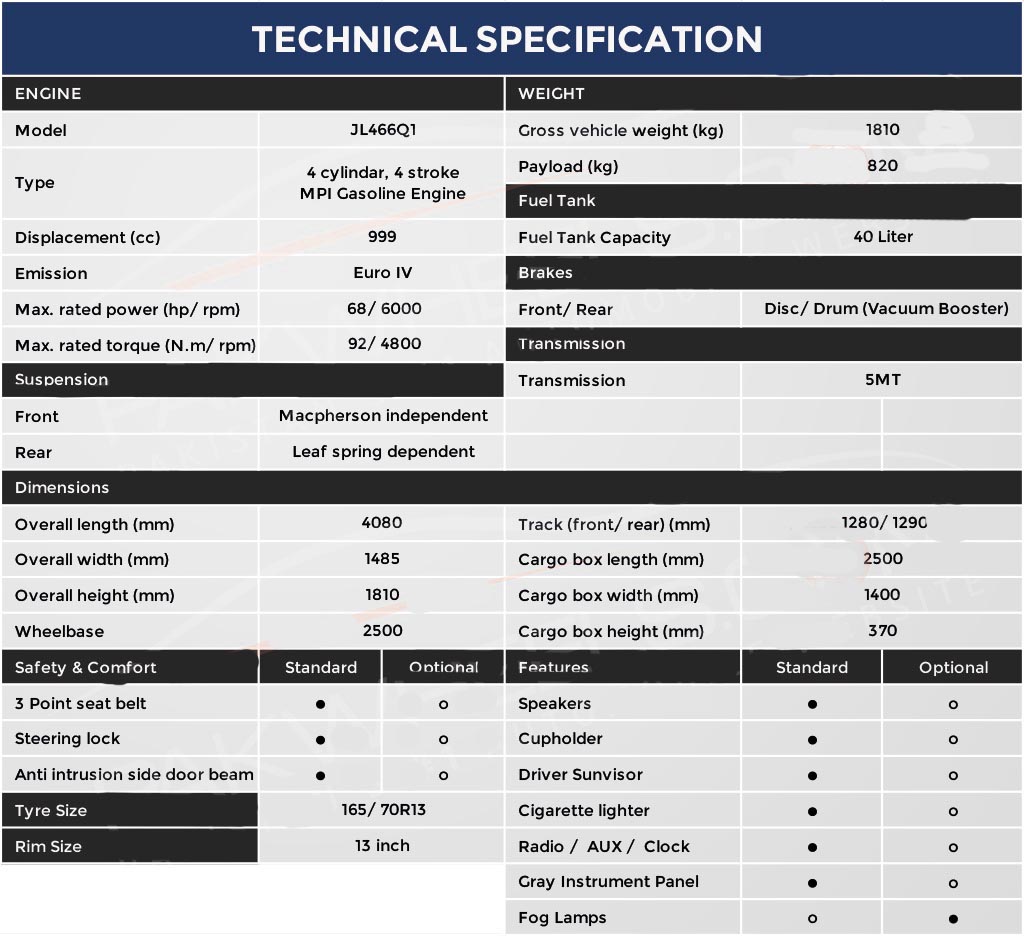 • Length: 4080 mm
• Width: 1485 mm
• Height: 1810 mm
The wheelbase of the vehicle, M8 is 2500 mm and the payload capacity of the vehicle is 820 kg.
You can also find the deck dimensions of the vehicle, which are mentioned below:
• Length: 2500 mm
• Width: 1400 mm
• Height: 370 mm
It is expected that M8 will be provided to the clients for PKR 850,000 and M8 will compete against FAW carrier Standard and new coming 1000cc Punjnad pickup will be launched by United Autos.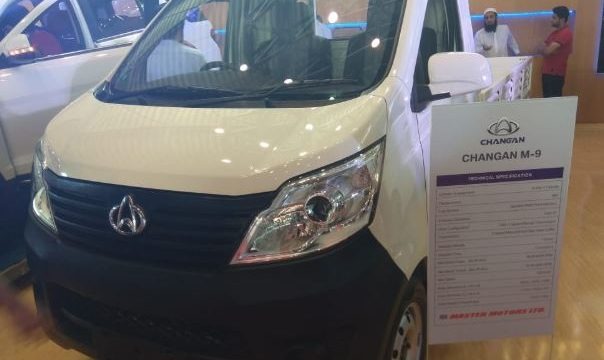 Technical Specification
Engine Weight
Model JL466Q1 Cross vehicle weight (kg) 1810
Type 4 cylinder, 4 stroke MPI Gasoline engine Payload (kg) 820
Fuel Tank
Displacement 999 Fuel tank capacity 40 liters
Emission Euro IV Brakes
Max rated power (hp/rpm) 68/6000 Front / Rear Disc/ Drum (vacuum booster
Max rated torque (NM/rpm) 92/4800 Transmission
Suspension Transmission 5MT
Front Macpherson independent
Rear Leaf spring dependent
Dimensions
Overall length (mm) 4080 Track (front/rear) (mm) 1280/1290
Overall width (mm) 1485 Cargo box length (mm) 2500
Overall height (mm) 1810 Cargo box width (mm) 1400
Wheelbase 2500 Cargo box height (mm) 370
Safety & Comfort Standard Optional Features Standard Optional
3 Point seal belt • o Speakers • o
Steering lock • o Cupholder • o
Anti intrusion side door beam • o Driver sunvisor • o
Tyre size 165/70R13 Cigarette lighter • o
Rim Size 13 inch Radio / AUX /Clock • o
Gray Instrument panel • o
Fog lamps o •
M9 is the pickup or loader and the company has launched it with M8 and it has the same engine as M8 which is 999 cc in line 4 cylinder and it is mated to 5 speed manual transmission to make 68 hp @ 6000 rpm and 92 Nm of torque @4800 rpm.
• Length: 4560 (length is 480 mm longer than M8)
• Width: 1645 (The vehicle is 160 mm wider than M8)
• Height: 1890 (The vehicle's height is 80 mm taller than M8)
The wheelbase of M9 is 2900 mm, while the wheel base of M8 is 2500 mm. The payload capacity of M9 pickup is 1000 kg and the deck dimensions of vehicle are as mentioned below:
• Length: 2750 mm
• Width: 1520 mm
• Height: 370 mm
The price of M9 will be expected to be PKR 900,000 and it will compete against FAW Carrier.
Technical Specification
Engine Weight
Model JL466Q1 Cross vehicle weight (kg) 2150
Type 4 cylinder, 4 stroke MPI Gasoline engine Payload (kg) 1070
Payload (kg)
Displacement 999 Fuel tank
Emission Euro IV Fuel Tank capacity 40 liters
Max rated power (hp/rpm) 68/6000 Brakes
Max rated torque (NM/rpm) 92/4800 Front / rear Disc/ Drum (vacuum booster
Transmission Suspension
Transmission 5 MT Front Machapherson Independent
Final gear ratio 5.286 Rear Leaf spring dependent
Dimensions
Overall length (mm) 4560 Track (front/rear) (mm) 1360/1360
Overall width (mm) 1645 Cargo box length (mm) 2750
Overall height (mm) 1890 Cargo box width (mm) 1520
Wheelbase 2900 Cargo box height (mm) 370
Safety & Comfort Standard Optional Features Standard Optional
3 Point seal belt • o Speakers • o
Steering lock • o Cupholder • o
Tyre size 175/70R14LT o Driver Sunvisor • o
Rim Size 14 inch Front passenger sunvisor • o
Radio / AUX /Clock • o
Body colored sized mirror • o
Fog lamps o •