Easypaisa Car Insurance Plans in Pakistan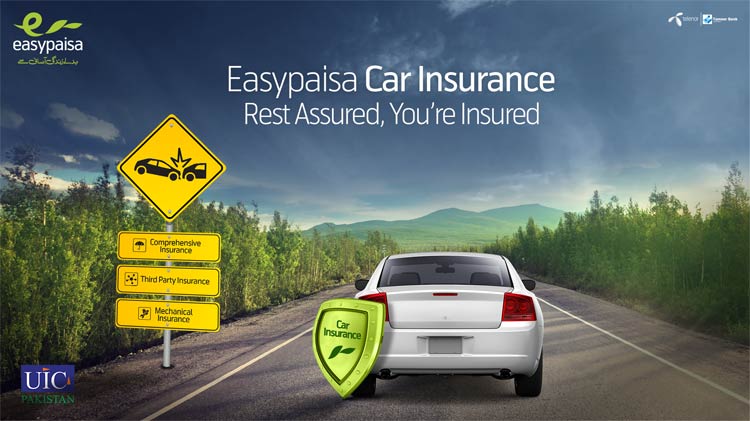 Easypaisa has made the collaboration with United Insurance Company and the company has started the first Easypaisa Car Insurance of the industry. The company has claimed that the offering is most wonderful for the users and it has the accessible set of the auto coverage across the country. The clients can note that this service will be made available after making the payment of the premium price of 2.5% of the market value of car annually.
The clients can find it different conventional
car
insurance policy and they can subscribe to Easypaisa Car Insurance and they can get the third party insurance and the terrorism cover. They will also cover the 'car mechanical insurance' which has never been offered in the country.
Easypaisa Car Insurance is added with everything, which is covered under competitive insurance plans and it is added with more coverage. The easypaisa car insurance is also added with engine breakdown, transmission, steering, drive axel, cooling system, suspension and electric fixes. The customers are not asked to submit the lengthy documentation and they can make a call to the helpline of Easypaisa at 3737 and the authorized surveyor will guide you through the process. The availability of the insurance plan with easy process can make this car insurance plan easy to different number of people. The subscribers can sign up for Easypaisa Car Insurance through sending a SMS. They can visit the Easypaisa shops, Telenor Sales and Service Center and Telenor Franchises across the country
Ali Riaz Chaudhary is the president and CEO of Tameer Bank said that with the quickly growing automobile industry in the country, the car owners can subscribe for the reliable car insurance policy and the Easypaisa Car Insurance is digitally empowered, which can address the needs of the customers.
Head of Easypaisa, Muhammad Yahya Khan said that the valued customers are the source of motivation for them and they can offer affordable and convenient car insurance with features that are completely unprecedented in the market in Pakistan. The customers can do all of the work through their mobile phones including signing up to make claims and they do not need to make the conventional laborious paper work. Now the car holders can rely on an affordable and comprehensive insurance plan for their car.
Chairman of United International Group, Mian Shahid said that they praised the digitization of the insurance overall claims process and with the visionary leadership of Easypaisa, they wished to work on providing the first rate insurance products across the country.
New Car Insurance Plans of Easypaisa offers the better coverage, cheaper pricing and it is provided to more people. Easypaisa will continue to demonstrate the advantages of the digital financial services with car insurance for the common man.