First Electric Hatchback of Pak Revealed

Ayesha

15 Aug 2022

161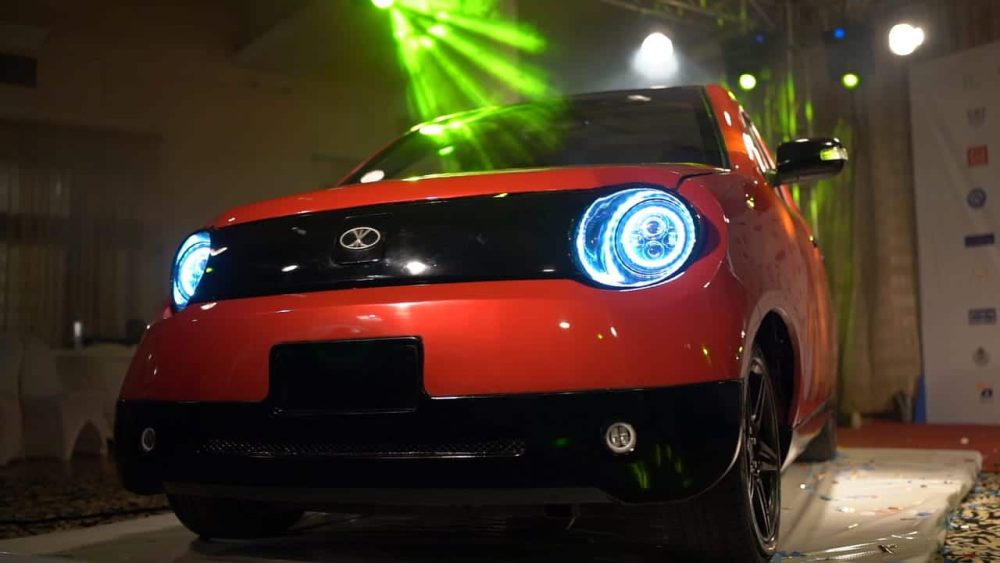 First Electric Hatchback of Pak Revealed
DICE Foundation has gifted this first electric car to Pakistan with Bur-E 75 on the eve of 75th birth anniversary of Pakistan and this is the first indigenous electric hatchback car of Pakistan. The company has announced that First Electric Hatchback of Pak Revealed.
DICE Foundation
has designed and developed the electric vehicle prototype and this manufacturing company is the US based non-profit organization. Various Pakistani expatriates with support from local academia and industry will support and run this company. The
first electric hatchback
has been named as
Nur-E
. The electric car manufacturing company is
JaXari
(which is named after a scientist from 12th century, Ismael Al-Jazari).
There are some of the specs and features of this electric hatchback, which are:
•
5 Seater
,
5 Door Hatchback
•
Peak Power
: 107 hp (80 KW)
•
Range
: 210 km+ with AC on (actual range still to be tested)
•
Wheel/Tire Size
– R16 205 / 55
Slow charging – 7 to 8 hr (from regular 220V outlet)
Fast charging – 2 hr (from fast DC chargers, still to be tested)
The launching event of this car started today at 4:00 pm and it has displayed the prototype with all glory and you can watch some exclusive pictures of this car. The working on the concept of the Nur-E is continued and it is great and it is huge initiative, which is undertaken by Pakistani automotive industry. DICE Foundation has made plan to get enough investment to product this prototype car on the commercial basis within about three years.
This is the great gift by DICE Foundation for people of Pakistan on the eve of Independence Day. It is great sign that the local market is busy in preparation of the indigenous EVs and the present auto policy of Pakistan has concentrated on the EVs as government believes in the future of the electric cars. We hope that other auto manufacturing companies will also start local assembly of the EVs in Pakistan.
Related Auto News Updates
Add a Comment "First Electric Hatchback of Pak Revealed"