Here Is The Comparison Of Hyundai Tuscon FWD Vs Glory 580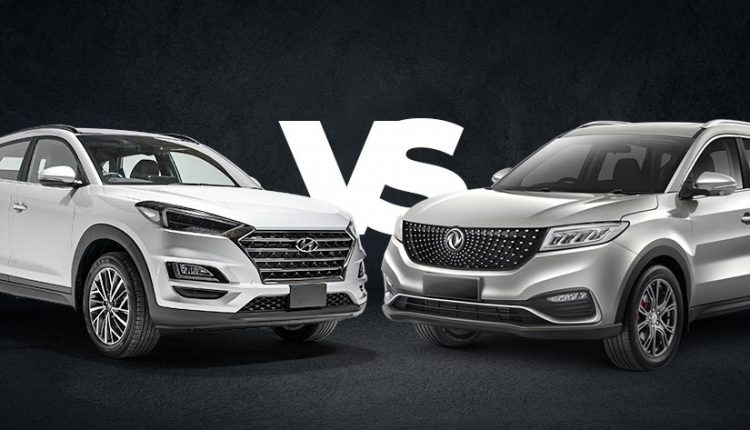 Here Is The Comparison Of Hyundai Tuscon FWD Vs Glory 580
Hyundai Tuscon FWD
is a leading SUV By
Honda Motors and Glory 580 Pro
is manufactured by DFSK and going to hit the market soon. Since both the variants are competitive and are going to give a tuff time to each other. The things will go in favor of Hyundai Tuscon o r will be better for DFSK's Glory 580 Pro in future, it can't be assumed for now. Currently we are going to make a comparison of these variants, so let's go ahead for the comparison without waiting for more time.
Power And Engine
First of all we are going to match engine of the both
vehicles
, the engine of the Hyundai Tuscon is made with 2000cc and it is accompanied by 4 cylinders that produce the 155hp at 6200RPMs and when it moves 4000 RPMs it produces 196nm Torque. On the other hand when we go with the engine of the DFSKs Glory 580 Pro, it is powered with the Turbocharged engine with 1500cc. The engine of the Glory Pro releases 150hp at 5600 RPMs and it produces 220nm of Torque when it goes 4000RPMs. Here we can see that Gloty Pro has smaller engine than that of Hyundai's Tuscon but it is Turbocharged which performs approximately same in hp and more in torque than that of Tuscon.
Transmission
Glory Pro 580 comes with
Continuously Variable Transmission CVT
and when we see Tuscon it is powered with 6-speed Automatic transmission.
Drive Variants
Glory 580 Pro has Front Wheel Drive FWD only and Tuscon comes with both wheel drive options as FWD and All Wheel Drive AWD.
Dimension and Exterior
When we make a comparison of over all look and appearance of the both vehicles we can see that the Glory 580 Pro is more long and high than Tuscon. The size of the Tuscon is 480mm length, 1850mm width and 1660mm length and The Glory Pro is 4680mm long, 1845mm wide and 1715mm high. When it comes to the ground clearance of the both vehicles Glory has 200mm and Tuscon has 172mm ground clearance. Corner and front lights are provided in both cars but Glory Pro is given with LED fog lamps additionally. The side mirrors of the Tuscon are electronic and heated while the side mirrors of Glory Pro are Auto Retractable and featured with Surriound View Camera Side View. Alloy rims of the both variants are 18 inches.
Interior
As far as the vehicles are compared from interior side, we can see that the Tuscon has 10.1 inch screen of the infotainment system and Glory pro has infotainment system with a screen size of 9 inches. Tuscon has fabric seats while leathert seats are given in the DFKS Glory Pro. Tuscon is a 5 seater car and the Glory will have both 5 and 7 seat options.
Key Feature Differences
Glory is equipped with parking sensors which are absent in Tuscon and Tuscon is featured with wireless charging support that Glory does not have.
Price
The expected price of Glory Pro is Rs4,400,000, while Tucson FWD's rate is Rs5,099,000.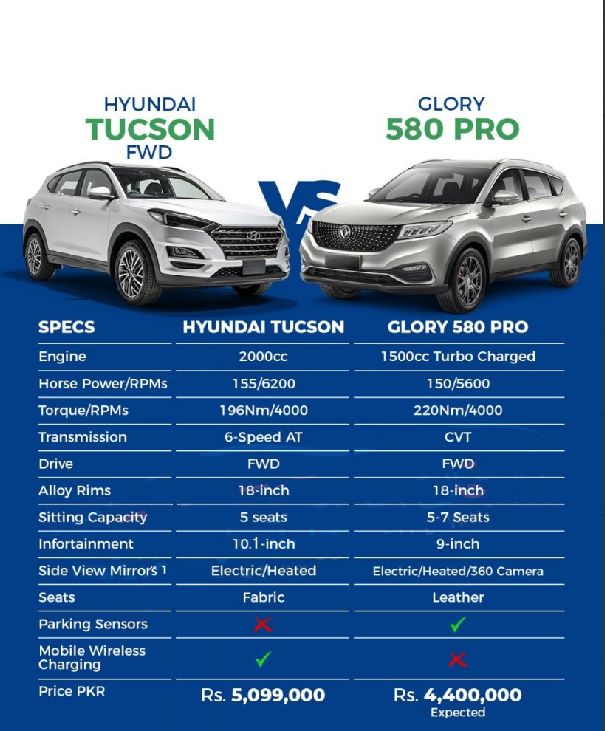 Add a Comment "Here Is The Comparison Of Hyundai Tuscon FWD Vs Glory 580"