GARI

Hyundai Free Car Checkups 'Right Here Right Care'
- Views 100
- 10 Jul 2019

Hyundai is the car manufacturing company and it is working with the Shell, the leading oil selling company in Pakistan to give the wonderful opportunity to the vehicles. Hyundai will provide the Free Car Care Clinic
Hyundai
at Hyundai City Store at Emporium Mall Lahore from 6 to 12 July 2019.
Hyundai Free Car Checkups 'Right Here Right Care'
.
It is one of its kind, the Car Care Clinic offers the opportunity to get the free car checkups for the customers with the provision of discounts on auto parts, labor and Shell Helix Products. The visitors can get the chance to buy the genuine auto parts for the vehicles. The customers will receive their Hyundai expertise and the services will be provided from 09 am to 6 pm around the week.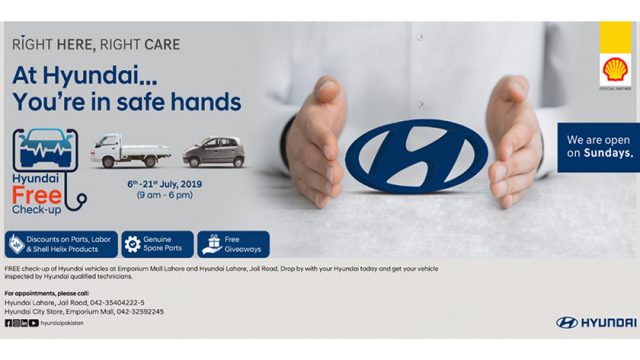 Now Hyundai has caused the stir by making the partnership with Nishat Group in order to generate automotive industry of Pakistan and it is locally known as Hyundai Nishat Motor Limited. The company has launched two vehicles in Pakistan including Grand Starex and Sante Fe.
Hyundai has opened its own showroom and the first digital showroom in Pakistan in Emporium Hall Lahore. The digital forum offers the auto lovers the remarkable and experience of 3D screens and huge floor to ceiling videos walls.
Hyundai Free Car Checkups 'Right Here Right Care'