Most Powerful Vehicle Ever Built by Lamborghini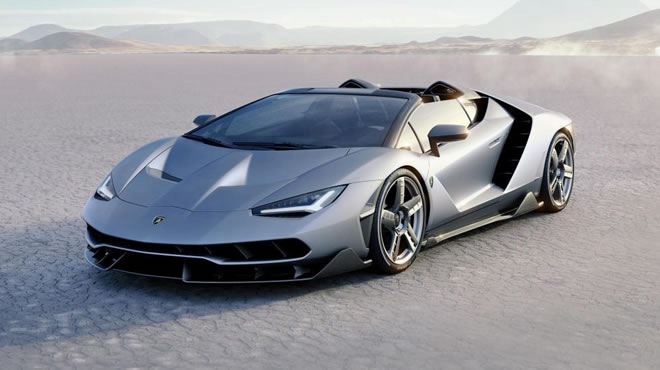 During Monterey
Car
Week in California, the emotional fans of Lamborghini were greeted by the new open-air version of its latest one-off product. This high performance model is built on the frame of a carbon fiber monocoque while carbon fiber is also used in its bodywork. Now the maximum engine revs of highly responsive V12 engine have increased from 8.350 to 8.600 rpm and it can delivers 770 hp (556 kW).
The top speed of Centenario Roadster is more than 350 km/h while it takes only 2.9 seconds to reach from 0-100 km/h. As for the break performance, it takes 31 minutes to come from 100-0 km/hr. Lamborghini's new rear wheel steering is also present in the Centenario Roadster. This system helps to increase constancy at high speed and turning quickness at low speed.
The company has released this special memorial series in order to celebrate the birthday of its founder Ferruccio. For this purpose, complete freedom was given to the designers for an open design that would look stylish in a good environment and represent the great qualities of the founder of Lamborghini.
Highlighting the clean surface is symbolizing new design of the company but it is according to the original design of the Lamborghini. The shape of Centenario is clean, mono-body and rich due to its low overhangs in front and rear.
"Argento Centenario" is the name given to the special exterior silver color that is exclusively done for the Centenario Roadster. This special silky and rich exterior finish is achieved by designers by dissolving the metal by diluting and thinning the appearance of the metal.