Renault-Nissan becomes World's largest Automaker
- Views 100
- 09 Aug 2017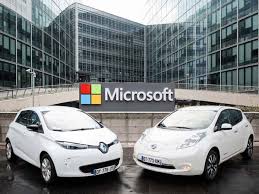 Renault-
Nissan
has managed to secure the place of world's largest automaker after just passing
Toyota
and Volkswagen. It happened after acquisition of
Mitsubishi
by the Renault-Nissan group due to the financial crisis of the former after its discontinuation of 8 models as a result of issues related to fuel efficiency.
Huge production and sales numbers make Volkswagen and Toyota as the main contenders for number 1 place in automakers in recent years but the Volkswagen group has come to better position due to recent regulations after its diesel emission scandal.
From time to time, big names pass others by short distance which makes the auto industry always in motion. After selling 5.3 million vehicles in the first six months of 2017, Renault-Nissan remained ahead of Volkswagen (5.15 million) and Toyota (5.13 million).
Achieving of top position by Renault-Nissan is surprising for many as Volkswagen is the parent organization of several world popular brands like Porsche, Bugatti, Lamborghini, Ducati, Audi, Skoda, MAN, seat, Bentley and Scania. Therefore, it is not easy to defeat world class automakers like Volkswagen and Toyota but now Renault-Nissan has increased its production of cars.
The recent downward position of
Volkswagen
came due to its over dependence on Tiguan which has now ceased its production and the burden of SUV is now on the new Atlas. Audi and Porsche are only for premium market which has smaller number of clients. But the company failed to understand the issue at right time and now it wants to correct the problem in the next 3 years with the launch of 17 SUV models.
Renault-Nissan group acquired stocks of Mitsubishi quite cheaply as the company lost more than $2 billion for abandoning 8 of its models. This helped Renault-Nissan to add 0.5 million sales to the part of the company which helped Renault-Nissan to become the largest automaker in the world.