RoboRace is Like F1 for Driverless Racing Cars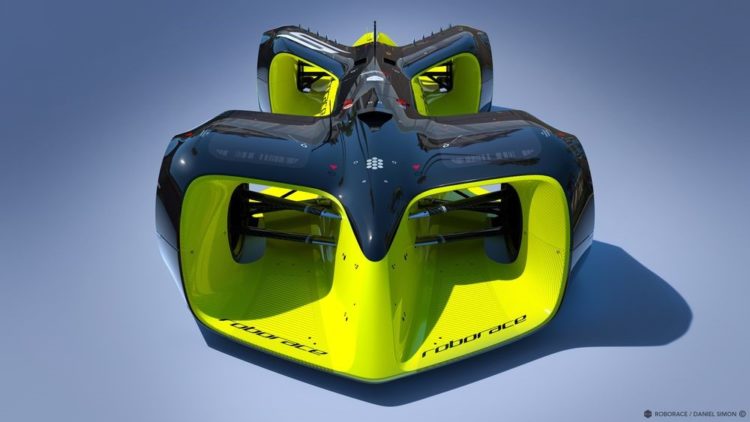 In the next few months, we are expecting a completely new experience about the self-driving technology but it is different from that of Tesla, BMW or Google. Now a strange first all-electric racing series will be seen soon as the third season of Formula E is almost here.
The organization of this modern race just before the main racing event is the best way to turned attention of people towards the idea of independent
cars
. This new race is named 'Roborace'.
This Formula E support series will be first such race and it will be held throughout the year before the main electric race event. It will really be a beautiful race and every lover of car racing would like to watch it.
Daniel Simon is the designer of these cars who is known for the 'Tron Light Cycle'. These racing cars are without cockpit while downforce is generated by a huge two-step front wing with active aerodynamics while the large back
tyre
is covered by extreme bodywork. It is certainly a new thing it is completely different from normal races.
But these are not mere publicity stunt as several sensors including normal and laser radars along with LEDs and a 360 degree camera at their back. The cars can deliver 24 trillion operations per second and 8 TFLOPS of performance with its sensors and Nvidia Drive PX 2 supercomputer with 12 CPU cores.
This Roborace car is manufactures by electric truck maker UK company Kinetik whiel these cars can reach the speed of 300 km/h or 190mph. similar to Formula E inaugural season, all the race cars follow the same spec. the duration of these races will be one hour.
In order to take their car ahead, every team can use existing APIs to design its own car. All the ten teams have two cars each. They can make their cars get more characters by creating their own colors.
Two years ago, Formula E series started to progress electric cars system. The series is held in street circuits around the world instead of conventional racing circuits in order to introduce maximum number of fans to the race. Now the administrators are trying to achieve the same thing with autonomous cars after the successful experience of E Racing.
The racing can easily be followed which is a reason to get attention as live races are broadcasted on YouTube while full races and highlights are also available later. It is expected that the first season of Robocar will also be easy to follow.
In less than 2 months, the race will start from 9th October 2016. The people will hopefully like this series despite the absence of any driver.