Suzuki Hayabusa vs Ninja Kawasaki Zx14r
Suzuki Hayabusa vs Ninja Kawasaki Zx14r
There is no doubt that
Suzuki
Hayabusa and Ninja Kawasaki Zx14r are among the best in the motorcycle world. Both these bikes are famous for their speed and power. Despite the introduction of several
new bikes
, Suzuki Hayabusa is still regarded as champion and is known as the 'fastest horse' in racing. Both these bikes are super fast and provide a great and smooth riding environment.
Overview
Bikes of Suzuki are known for their speed while Kawasaki has strong engines. Suzuki Motor Corporation is a Japanese international company which is known for providing four-wheel drive vehicles, engineering
automobiles
, all-terrain vehicles (ATVs) and motorbikes. Kawasaki Heavy Industries Ltd. is a Japanese public transnational corporation famous as a maker of heavy gear, motorcycles, defense gear and aerospace. Both companies are famous worldwide for providing high quality products.
Availability in Pakistan
Both these international companies provide their products on global scale and they can be imported in Pakistan too. Recently, Suzuki introduced few very powerful sports motorbikes in Pakistan which Suzuki Hayabusa GSX 1300R is the most expensive and superior of them all. PKR 2,600,000 is the price of this sports bike in Pakistan while the price of
Kawasaki Zx14r
in Pakistan is around PKR 2,000,000.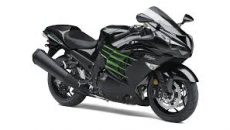 Hayabusa vs Ninja
Hayabusa was introduced in 1999 and it is still matchless as being the fastest bike in Pakistan. This sports bike can easily defeat Honda Blackbird, Yamaha and Kawasaki ZX-12R in this aspect. But now the engine, specs and price of both these bikes have been updated in 2017.
The
Suzuki Hayabusa GSX 1300R
1340cc DOHC liquid cooled engine while there is a 1441 cc engine in the Kawasaki's bike. Hayabusa with top speed of 188-194 mph is faster than Ninja ZX-14r with the top speed of 186 mph.
Suzuki Hayubusa has a modern look and design which not only provides best performance but is also much stylish in look. Color options in the bike include bold black, groovy yellow and a decent white while there is a single color option of flat ebony in the Kawasaki Ninja ZX-14r.
Engine Comparison
But the bikes have super fast and thrilling speed. The engine of Suzuki Hayabusa has DOHC 16 Valve with 4-cylinder and Liquid Cooled formula. Following are the specs of both sports bikes.
Displacement 1340 cc 1441cc
Bore & Stroke 84 x 65 mm 76.0 x 55.0mm
Compression Ratio 12.3:1 13.0:1
Transmission 6-speed 6- speed, return shift
Frame Twin Spar Aluminum perimeter
Ground Clearance 120 mm 4.9 in
Petrol Capacity 20 L 22 L
Tyre at Front 4.7 – 17 120/70 ZR17
Tyre at Back 7.5 – 17 190/55 ZR17
Dry Weight 220 KG 269 KG
Brakes & Security
Suzuki Hayabusa is an extremely secure and comfortable sports bike with anti-lock brakes and modern spherical
brake calipers
. A 6 speed gear transmission with a Suzuki clutch assistant system is in the bike which assists in flexible and even shifting of gears. The road grip of the bike is superb with its wheelbase of 1480 mm.
On the other hand, the electric rider aid is provided to Kawasaki Ninja ZX-14r which includes:
• Kawasaki Launch Control Mode (KLCM)
• Kawasaki Intelligent anti-lock Brake System (KIBS)
• Kawasaki Sports Traction Control (S-KTRC)
• Kawasaki Engine Braking Control
• Kawasaki Quick Shifter (KQS)
• Kawasaki Corner Management Function (KCMF)
Add a Comment "Suzuki Hayabusa vs Ninja Kawasaki Zx14r"