Comparison Between Suzuki Wagon R Vs United Alpha
- Views 100
- 07 Jan 2021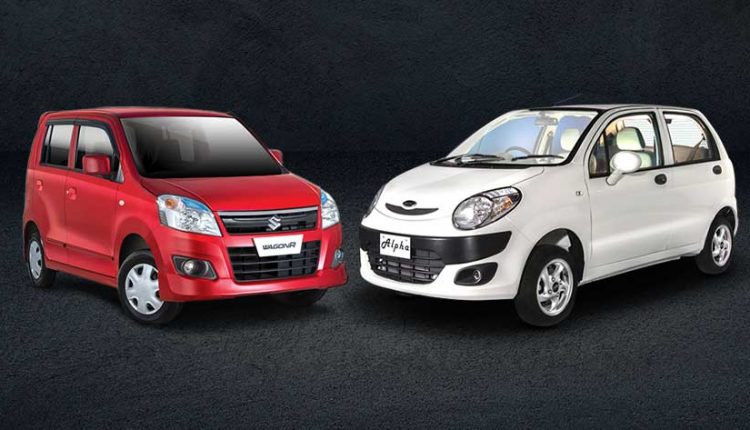 United Motors
launched its hatchback United Alpha on 2nd January 2021 and it is the first and latest entry of the year 2021 in the Pakistani auto market. It is worth mentioning that United Alpha is a rebrand of
Chery QQ
which was launched in 2005 under the brand Karakoram Motors. In this article we are going to make a comparison between United Alpha Vs Suzuki Wagon R.
Engine and Transmissions
The
Suzuki
has powered its Wagon R with 998cc engine that produces 67hp and 90Nm Torque while the United Alpha is equipped with 993cc engine that generates 68hp and 93Nm Torque. The Alpha has less engine power but is produces higher hp and torque than Suzuki Wagon R.
As far as the transmissions are concerned, both cars are same and have 5-speed manual transmissions.
Airbags
Regarding safety, both cars lack airbags which is a necessary feature for the safety.
Alloy Wheels
Both,
Suzuki Wagon R
and United Alpha are provided with Alloy Wheels for safe driving experience.
Fog Lamps
As far the fog lamps, United Alpha comes with fog lamps on the other side Wagon R is not provided with fog lamps.
Power Steering and Power Windows
Both Wagon R and Alpha have power steering. On the other side Alpha is featured with all windows powered while Suzuki has offers this feature only in front windows.
Rear Wiper
Suzuki Wagon R lacks rear wipers whereas the United has provided with rear wipers in its Alpha which is useful in rains and makes driving safer and easier.
Rear Camera
Suzuki has not installed the rear camera in its Wagon R while United has provided its Alpha with this exciting feature which is helpful in reversing and parking of the car.
Multimedia Screen
The Suzuki Wagon Ris only provided with conventional audio system and latest infotainment system is absent in this car. When we move towards the United Alpha, we see it is equipped with latest multimedia screen in its dashboard with Bluetooth Connectivity, Radio and Audio features.
Price
The price of Suzuki Wagon R is 1,730, 000 rupees and on the other side United's latest hatchback United Alpha comes at a price tag of 1,395,000 rupees and United Alpha is almost 3,50,000 rupees cheaper than Wagon R.