Pak Suzuki Cars New Prices
- Views 100
- 03 Jul 2019
Due to consistent rupee devaluation and number of taxes and duties levied by the government, the car makers have started increasing the rates of the cars. Pak Suzuki Motor Company has increased the prices of the vehicles and it will come into effect from 01st July 2019.
Pak Suzuki Cars New Prices
.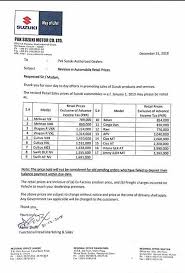 Pak Suzuki has revised the car prices and it will take some time to digest the new prices of the cars because the new prices of the cars looks unrealistic and it will leave negative impact of rupee devaluation and impose the Federal Excise Duty on all cars. The auto manufacturers are forced to increase the prices of their cars and now the government has introduced the slabs I which the 2.5%, 5% and 7.5% FED is imposed on the
vehicles
according to their engine capacity. These factors have contributed to price hike and the recent circular was sent to the Suzuki dealerships all over the country. It is clearly stated that due to these reasons of the price hike, the company was forced to pass on this impact on the market.
The maximum price hike was observed in
Suzuki Swift
and it went way from Rs.1721 million to Rs.2.05 million with the difference of Rs,329,000. The price of the vehicle,
Suzuki
Wagon R VXR
and VXL is raised from Rs.1264 million and Rs.1344 million to Rs.1.54 million and 1.1625 million respectively. The price of Suzuki
Cultus VXR
is increased by Rs.305,000 to Rs.1.745 million and the VXL variant is priced at Rs.1.855 million with the difference of Rs.304,000. The price of the vehicle,
Suzuki Vitara
has become costlier by Rs.205,000 with new price of Rs.4,295,000.