Pakistan Manufactured 2.07 Million Motorcycles in 2014-15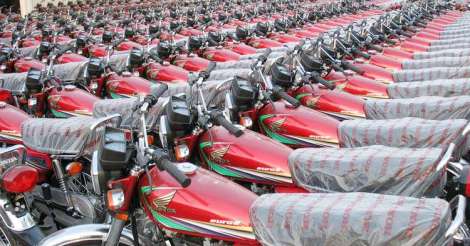 It is reported that Pakistan has produced about 2.07 million motorcycles during the year 2014-15. The production of
motorcycle
during this period is up 16.54% as compared to the previous year production.
Pakistan Bureau of Statistics has issued the latest data showing that there are total 2,071,123 units of motorcycles produced during this year across the country and the previous production of motorcycles is 1,777,251 units during the year 2013-14.
There are about 60 motorcycle manufacturing companies in the country in which
Honda
is still the market with great margin. The manufacturers have produced over 172,000 motorcycles per month and it shows that the usage of motorcycle is increasing in the country.
The middle class is growing financially and the sale of the motorcycle is increased and experts said that this trend has increased in recent times. The local retailers for motorcycle lease have introduced the easy installment plans and this is the main reason for rapid growth in production of motorcycle. There are various local retailers of motorcycles, who offer cheap and easy installments for the sale of the motorcycle, which is about Rs.2000 per month.
The experts expect that the sale of the motorcycles will also be increased in the coming years. The current road infrastructure in the city areas is not prepared to meet the incoming speed of the motorcycles on the road. The concerned departments must ensure proper training and license of motorcycles, so that they can manage the increasing number of motorcycles on the roads, which can result in increase in accidents during the recent previous years.
The time has come that the motorcyclists should be regulated in strict manner to ensure that other motorists moving on the roads are safe. There is no idea of separate roads and lanes for the motorcycles in the developing country like Pakistan. The concerned authorities take the necessary measure to ensure that the motorcyclists do not pose any threat to themselves and others on the busy urban or city roads in all big and small cities.