Proton Saga Standard MT Vs Honda City 1.3L MT:
- Views 100
- 06 Apr 2021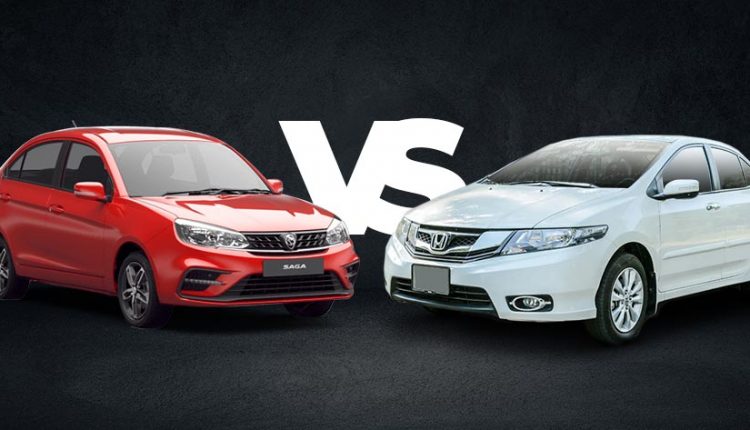 The
Proton
has launched its
Saga sedan in Pakistani auto market
recently. Today we are going to make a brief comparison of Proton Saga Sedan with
Honda City
. We will compare the Proton Saga Standard Manual Transmission MT with Honda City 1.3L i-VTEC MT variant. So let's move towards the comparison of both sedans without any delay.
Engine and Transmission
The
Proton Saga sedan
is installed with 1299cc engine that generates 95hp and 120Nm torque. On the other side, the Honda City is equipped with 1339cc engine that produces 98hp and 128Nm torque. The Honda City is leading Proton Saga. However, both sedans have 5-Speed Manual Transmission.
Exterior
Both sedans, Honda City and Proton Saga come with Halogen Headlights while Day Time Running Lights DRLs are absent in both cars. Honda City has 15-inch Steel Wheels while the Saga sedan comes with 14-inch Steel Wheels.
Interior
The Proton has installed Hydraulic Power Steering in the sedan Proton Saga whereas; the Honda comes with Electronic Power Steering. Power Windows are available in both cars. As far the entertainment, Saga is installed with Standard Audio System while the City sedan offers an extra feature of touch screen in it.
Safety
The Proton Saga comes with 2 Airbags while city does not come with Airbags. ABS Brake Assist is available in both sedans and Sag sedan has additional feature of Electronic Brake Distribution EBD. Hence, Traction Control, Electronic Stability Control, Hill Start Assist and Front Parking Sensors are absent in both cars. Rear Parking Sensors are available in Saga sedan. Reverse Camera is absent in Saga but is optional in Honda means that you have to pay for it.
Price
The newly launched Proton Saga's Price is Rs 1,975,000 while Honda City costs you at Rs 2,449,000 showing that Saga is over Rs 500,000 cheaper than City, which is a huge difference of amount in compact sedan category.