Price Surge for Honda CG 125 Gold After Launch

Jawad

15 Sep 2023
216
Honda
CG 125S GOLD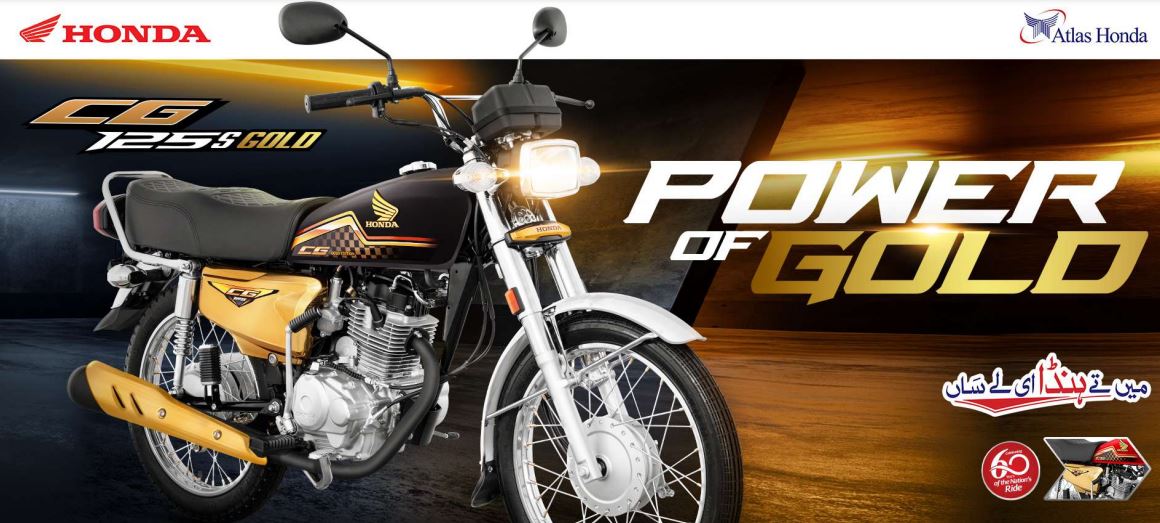 Price Surge for Honda CG 125 Gold After Launch
In recent news,
Honda CG 125
has created a buzz with the introduction of its "
2024 model
," featuring a claimed 77 improvements by
Atlas Honda
. However, upon closer inspection, it becomes evident that the most significant change in the new model lies in its stickers, with only minor alterations to the frame and engine. In addition to this updated model, the company has also launched the all-new
Honda CG 125 Gold
, replacing the previous Special Edition variant.
Introducing the Honda CG 125S Gold
The
Honda CG 125S Gold
debuts with the tagline "Power of Gold," boasting a golden silencer, side cover, and emblem, available in striking red and black variants. The overall design, however, presents an intriguing mix of elements, catering to a niche taste in the world of two-wheelers.
Perhaps the most crucial aspect of this gold-accented two-wheeler is its price. It's worth noting that the CG 125 Special Edition was priced at Rs. 282,900. Surprisingly, the newly announced price for this bike stands at Rs. 292,900, marking a significant increase of Rs. 10,000. In effect, this means that the price, like the bike itself, possesses a touch of gold – it truly embodies the "power of gold." Consequently, when factoring in registration, number plate, and other incidental expenses, this new bike will set you back around Rs. 300,000, which might come as quite a shock.
Notable Changes in the Honda CG 125
The apparent alterations in the 2024 model of the Honda CG 125 include:
> Updated Sticker Design
>

New Seat Design and Length
>

Enhanced Speedometer Design
>

Painted Front Shocks and Hub
>

Prominent Golden Front Emblem
According to the company, the focus in redesigning the
new CG 125S Gold
was to provide a smoother riding experience, addressing the bike's longstanding issue of vibrations. The
CG 125
has not been known for its comfort, especially on long journeys. With its redesigned seat,
Atlas Honda
claims to have made it more comfortable and rider-friendly.
What are your thoughts on the price of the new Honda CG 125S Gold? Do you believe it justifies the enhancements and changes? We invite you to share your opinions in the comments section below.

Related Auto News Updates
You Might Also be Interested in
Add a Comment "Price Surge for Honda CG 125 Gold After Launch"