Suzuki Pakistan's GR150 and GSX125 Price Hike

Jawad

15 Sep 2023
144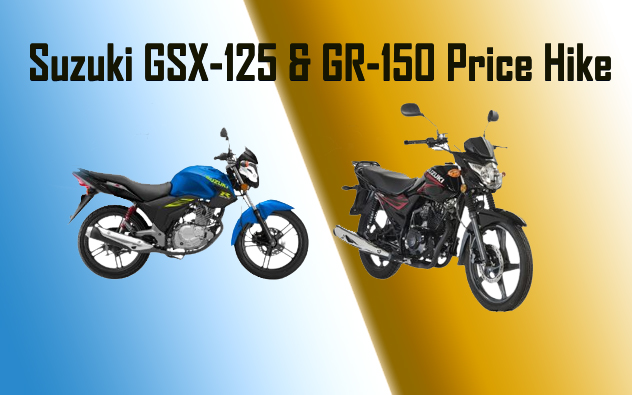 Suzuki Pakistan's GR150 and GSX125 Price Hike
Suzuki Pakistan
, following the lead of
Atlas Honda
, has revealed an increase in the prices of two of its
bike models
, the
GR 150
and
GSX 125
. While the price hike may seem substantial, up to Rs. 26,000, it is not unprecedented in the context of recent price adjustments by
motorcycle manufacturers in Pakistan
. These
new prices
have come into effect from
September 15, 2023
, as per a notification issued by the company.
Suzuki GR150 & GSX125 – Revised Prices
After the recent adjustments:
The new price of the GR150 stands at Rs. 547,000, compared to the previous Rs. 521,000, reflecting a significant increase of Rs. 26,000.

Meanwhile, the revised rate for the GSX125 is now Rs. 499,000, up from Rs. 488,000, resulting in a hike of Rs. 11,000.
The company emphasizes that these retail prices encompass ex-factory product prices and freight charges, which apply to
bikes
delivered to dealerships. It's essential to note that these prices are subject to change without prior notice, with the rates applicable at the time of bike delivery. Additionally, any government taxes that may apply will be billed to the customer.
While the company has not disclosed the specific reasons behind this price increase, it has officially notified customers of the adjustment. Potential factors contributing to this hike include challenges related to imports, increased costs of raw materials, and the fluctuating exchange rate of the Pakistani Rupee against the US Dollar, which directly affects foreign exchange rates. Despite claims of localizing production, bike manufacturers, especially
Yamaha
and
Suzuki
, still rely on importing significant bike components. Therefore, when the dollar rate rises, so do
bike prices
, leading to the current situation where more is not necessarily better.
The cycle of price hikes in the automotive industry appears likely to persist due to economic and political instability. It may take several months for the industry to find stability amid these challenges. Until then, brace yourselves for an uncertain ride.
What are your thoughts on the new price of the Suzuki GR150 and GSX125 ? Do you find it justified in light of the prevailing circumstances? We invite you to share your insights and perspectives in the comments section below.
Related Auto News Updates
Add a Comment "Suzuki Pakistan's GR150 and GSX125 Price Hike"